Outlet Design
店舗設計
---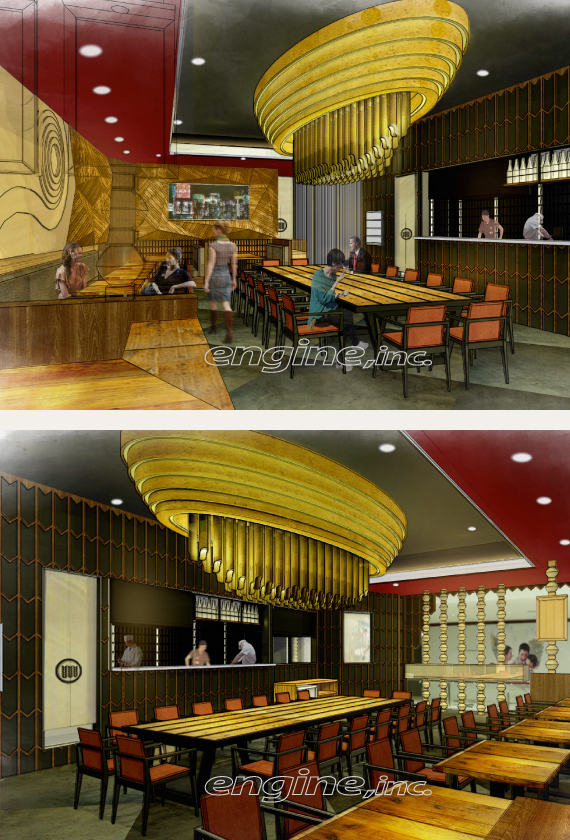 The Starling Mall
Bamboo Light
Bamboo light in the centre of the main hall is to represent the landscape of bamboo forests at villages in Japan.
Polygon Wall
Polygon Wall around the outlet is designed to represent the mountain ranges in Japan especially Japan being a country with lots of beautiful mountains.
3-Dimensional Shapes
3-Dimensional round shapes at the centre of the wall are based on "Karesansui" to express the movement of water. The Japanese rock garden (枯山水 karesansui) often called a zen garden creates a miniature stylized landscape through carefully composed arrangements of rocks, water features, moss, pruned trees and bushes, and uses gravel or sand that is raked to represent ripples in water. The origin of this garden has started at Zen Temple in 1300.
Patterns of YAJIRI
The patterns of YAJIRI (arrows) on the walls is the family insignia of the Mitsuyado brand.
Front Facade
The front façade of our outlet is designed with pole decoration of bowls and sake mass container. This design is to represent a place for food and drinks and we believe this design will have a lasting impression to our patrons.
Noodles Lab
The noodles lab is positioned at the front of the outlet to solidify Mitsuyado's concept of fresh noodles from the noodles factory. The front of the noodles lab is built with "stacks" of noodles tray.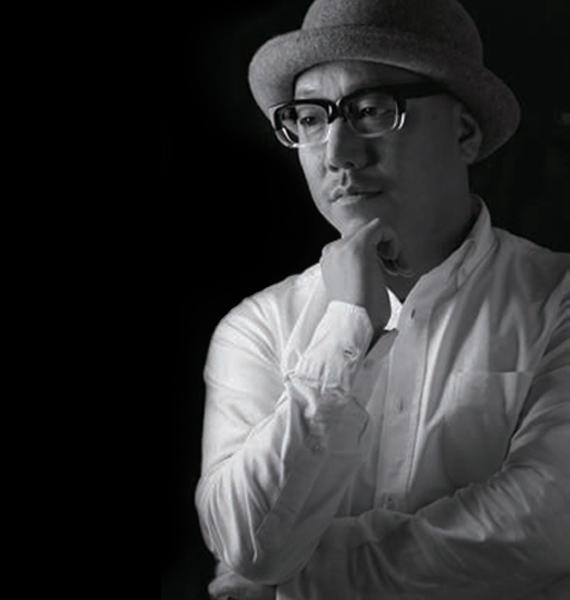 Takahiro Todoroki
Introduction Of Our Interior Designer
After graduating from Chuo University (Law Department, Faculty of Law), Takahiro Todoroki set off guitar in hand, to study music in North America. While working as a part time ranger in a national park in Texas during this time, his co-workers took him to a desert in southwestern Arizona, where he visited a bar set into a cave. This setting proved so impressive and inspiring that Todoroki made the decision to study spatial design on his own, and to then make a career out of that study. In 2000, Todoroki began working independently under the name of 'E/g SPACE LABO', and in 2004 formed a corporate entity, changing the name to 'engine,inc'. Todoroki's work covers a wide range of areas centred on commercial facilities such as restaurants, clinics, homes, salons, and retail shops.
Awards
2011 BEST RESTAURANT 10 / The Best Hidden 賞
Project: ROBATA JINYAA - LOS ANGELES, USA
Year: 2011
Organizer: Angelena
The BEST 16
Project: SPEAK LOW - SHANGHAI, CHINA
Year: 2016
Organizer: The World Best Bars 50
The BEST 2
Project: SPEAK LOW - SHANGHAI, CHINA
Year: 2016
Organizer: The Asia Best Bars 50